The Nagorno-Karabakh conflict is an ethnic and territorial dispute between Armenia and Azerbaijan over the disputed region of Nagorno-Karabakh, which is populated primarily by ethnic Armenians, and seven surrounding districts, which were populated mainly by Azerbaijanis until their evacuation during the First Nagorno-Karabakh War. Although de jure is internationally acknowledged as part of Azerbaijan, parts of these lands are de facto governed, and others are claimed by the separatist Republic of Artsakh. The dispute dates back to the early twentieth century, but it was reignited in 1988 when Karabakh Armenians requested that Karabakh be transferred from Soviet Azerbaijan to Soviet Armenia. In the early 1990s, the conflict erupted into a full-fledged war, which subsequently devolved into a low-intensity conflict until a four-day escalation in April 2016, and then into another full-fledged war in 2020.

A ceasefire negotiated in Bishkek in 1994 was followed by two decades of relative calm, which worsened dramatically in tandem with Azerbaijan's growing dissatisfaction with the status quo, which ran counter to Armenia's efforts to maintain it. Until the 2020 conflict, a four-day escalation in April 2016 was the bloodiest truce violation. On November 10, 2020, the tripartite ceasefire agreement established a tentative armistice, under which Azerbaijan regained control of most of the territory lost during the First Nagorno-Karabakh war. The combat has thus ended, according to Azerbaijan's president, Ilham Aliyev; nonetheless, the ceasefire agreement was followed by the 2021 Armenia-Azerbaijan border crisis, which began in May 2021 resulted in sustained casualties on both sides.
In February 1988, the war entered its contemporary phase. According to the Soviet Census of 1979, there were 160,841 Azeris in Armenia and 352,410 Armenians outside of Nagorno-Karabagh. According to the Soviet Census of 1989, there were 84,860 Azeris in Armenia and 245,045 Armenians in Azerbaijan outside of Nagorno-Karabagh. Ethnic hostilities between Armenians and Azerbaijanis in Nagorno-Karabakh escalated when the Soviet Union disintegrated in 1989. In 2017, both sides' public opinion was described as "increasingly entrenched, bellicose, and unyielding." Mutual compromises that may reduce tensions, in the long run, may jeopardize internal stability and the survival of ruling elites in the short term, providing little motivation for compromise.
1. First Nagorno-Karabakh War (1988–1994):-
The First Nagorno-Karabakh War (1988–1994) was fought between Armenia and Azerbaijan.
Azerbaijani soldiers' graves
The First Nagorno-Karabakh War, also known as the Artsakh Liberation War in Armenia and Nagorno-Karabakh, was an armed conflict that took place in the enclave of Nagorno-Karabakh in southwestern Azerbaijan from the late 1980s to May 1994, between the Republic of Armenia and the majority ethnic Armenians of Nagorno-Karabakh. Armenia and Azerbaijan, both former Soviet republics, became embroiled in a protracted, undeclared war in the rocky heights of Karabakh as Azerbaijan attempted to quell the secessionist movement in Nagorno-Karabakh as the war advanced.
The parliament of the enclave had voted in favour of joining Armenia. The Azerbaijani population of Nagorno-Karabakh boycotted the referendum, which saw the majority of voters vote in support of independence. The movement for Armenian unification, which resurfaced in 1988, began rather peacefully. As the breakup of the Soviet Union approached, tensions between ethnic Armenians and ethnic Azerbaijanis grew increasingly violent. Both sides claimed the other was carrying out ethnic cleansing and pogroms.
On February 20, 1988, the parliament of the Nagorno-Karabakh Autonomous Oblast (NKAO) in Azerbaijan decided to unite the province with Armenia, sparking inter-ethnic hostilities. In Soviet Azerbaijan, the circumstances surrounding the breakup of the Soviet Union aided an Armenian separatist movement. The proclamation of independence from Azerbaijan was the culmination of a territorial dispute over land. The Armenian majority chose to separate from Azerbaijan as the country declared independence from the Soviet Union and stripped the enclave's government of its powers. They declared the unrecognized Republic of Nagorno-Karabakh in the process.

In the late winter of 1992, full-scale warfare broke out. Several international organizations, including the Organization for Security and Co-operation in Europe (OSCE), attempted to mediate but were unsuccessful. Armenian forces took land beyond the enclave in the spring of 1993, threatening to spark participation from other countries in the region. The Armenians controlled most of the enclave by the end of the war in 1994, and they also had and now control about 9% of Azerbaijan's land outside the enclave. As a result of the fighting, about 230,000 Armenians from Azerbaijan and 800,000 Azerbaijanis from Armenia and Karabakh have been displaced, effectively cleaning Armenia and Karabakh of Azerbaijanis and Azerbaijan of Armenians. In May 1994, a truce negotiated by Russia was signed, leading to diplomatic mediation.

In the years following the 1994 truce, there were some confrontations.
2. Border clashes (1994–2020):-
After the truce in 1994, the status in the area.
After the 2008 Armenian election demonstrations, the 2008 Mardakert confrontations erupted on March 4th. It saw the most intense fighting between ethnic Armenian and Azerbaijani forces in Nagorno-Karabakh since the 1994 ceasefire following the First Nagorno-Karabakh War.

Armenian reports claim that Azerbaijan is attempting to profit from the country's instability.

Azerbaijani sources accused Armenia, stating that the Armenian government was attempting to deflect attention away from domestic strife

Following the incident, the United Nations General Assembly voted Resolution 62/243 on March 14 by a recorded vote of 39 in favor to 7 against, calling for the immediate withdrawal of all Armenian soldiers from Azerbaijan's occupied lands.
a. 2010 Violence:-
On February 18, 2010, a sporadic exchange of gunfire occurred on the line of contact separating Azerbaijani and Armenian military units in Nagorno-Karabakh. Azerbaijan claimed Armenian forces of shooting small arms fire, including snipers, on Azerbaijani positions near Tap Qaraqoyunlu, Qzloba, Qapanl, Yusifcanl, and Cavahirli villages, as well as in the Agdam Rayon uplands. Three Azerbaijani troops were killed and one was injured as a result.

The Market clashes in 2010 were a series of violations of the Nagorno-Karabakh War's ceasefire. They took place across the line of contact that separates Azerbaijan from the ethnic Armenian military forces of the Nagorno-Karabakh Republic, which is unrecognized but de facto autonomous. Both sides claimed the other had broken the ceasefire agreement. These were the most serious violations of the cease-fire (which has been in effect since 1994) in two years, with Armenian forces suffering the most losses since the March 2008 Mardakerthostilities. Between 2008 and 2010, 74 soldiers on both sides were killed.
b. 2011–2013 Continued Fighting:-
Three Nagorno-Karabakh soldiers were killed in border confrontations in late April 2011, while two Azerbaijani and one Armenian soldier were killed on October 5. Ten Armenian soldiers were killed in total during the year. From late April to early June the following year, border confrontations between Armenian and Azerbaijani armed forces took place. Five Azerbaijani and four Armenian soldiers were killed in the confrontations. In total, 19 Azerbaijani and 14 Armenian soldiers were killed in 2012. According to another story, 20 Azerbaijanis were killed.12 Azerbaijani military and 7 Armenian soldiers were killed in border clashes in 2013.
c. 2014 Clashes And Helicopter Shootdown:-
Azerbaijani clashes in 2014, and Armenian Mil Mi-24 shootdown in 2014. Several border confrontations erupted in 2014, resulting in 16 deaths on both sides by June 20. Azerbaijani officials claimed on August 2 that eight of their soldiers had been killed in three days of combat with NKO forces, the country's military's highest single death toll since the 1994 war. NKO denied that they had incurred any casualties, but claimed that the Azerbaijanis had suffered 14 deaths and many more injuries. In the largest incident in the region since 2008, local officials in Nagorno-Karabakh claimed at least two Armenian military deaths. The following night, five additional Azerbaijani forces were slain, increasing the total death toll from the August confrontations to at least 15. The fighting prompted Russia to issue a stern statement warning both sides against further escalation.

By August 5, 2014, 14 Azerbaijani and 5 Armenian soldiers have died in the battle that began on July 27. Since the beginning of the year, 27 Azerbaijani soldiers have been killed in border conflicts.

In the second incident in July 2014, the NKR Defense Army stated that forces had killed one Azerbaijani subversive organization member and captured two others who had crossed the contact line. The crew was accused of murdering SmbatTsakanyan, a seventeen-year-old Armenian youth from the village of Jumen, in addition to spying on Armenian troop movements, military sites, and civilian communities in Karvachar (Kelbajar). An Armenian court condemned both of the group's remaining members to live in prison. The team's video footage was provided to the public and broadcast on Armenian state television in July 2015.

Azerbaijani military forces shot down a Nagorno-Karabakh Defense Army Mil Mi-24 helicopter over Karabakh'sAgdam area on November 12, 2014. The incident resulted in the deaths of three servicemen. The aircraft was unarmed, according to Armenia's Defense Ministry, and its downing constituted an "unprecedented aggression." The helicopter was "trying to assault" Azerbaijani army positions, according to Azerbaijani authorities. Azerbaijan will face "severe consequences," according to Armenian authorities. With the crash, 2014 became the bloodiest year for Armenian forces since the 1994 ceasefire accord, with 27 soldiers killed and 34 Azerbaijani soldiers slain. Six Armenian civilians were killed in 2014, bringing the total number of Azerbaijanis slain to 39 by the end of the year (37 soldiers and 2 civilians).
d.  2015 Sporadic Fighting:-
As border skirmishes continued in 2015, 42 Armenian military and 5 civilians were killed. At least 64 Azerbaijani soldiers were also killed.

Fighting was mostly sporadic in the months of January, June, August, September, November, and December.

Azerbaijan had become frustrated with the status quo over the years. In this sense, the country began a military build-up, fueled by oil and gas windfalls. Baku spent $3 billion on its military in 2015, more than Armenia's total national budget.
e. Early 2016 Conflicts:-
Four Armenian and four Azerbaijani soldiers were killed in fighting near the Nagorno-Karabakh frontier in January and February 2016.

AramayisVoskanian, a Nagorno-Karabakh soldier, was killed by Azerbaijani sniper fire while operating in the eastern direction of the Line of Contact in 2016. Hakob Hambartsumyan, an Armenian herder from Vazgenashen, was killed by an Azerbaijani sniper in mid-February. Two Azerbaijani soldiers and one Armenian soldier were killed in fighting near the Azerbaijan-Armenia border in March.
f. 2016 April Conflict:-
Heavy fighting along the Nagorno-Karabakh frontline killed 88 Armenians and 31–92 Azerbaijani soldiers between April 1 and 5. Three Azerbaijani soldiers and one Armenian soldier were also missing. In addition, ten civilians were slain (six Azerbaijanis and four Armenians). An Azerbaijani military helicopter was shot down, as were 13 unmanned drones, and an Azerbaijani tank was destroyed, while Nagorno-Karabakh lost 14 tanks.
g. 2016–2017 Renewed Border Clashes:-
Intermittent violence killed 14 Armenian soldiers and three Azerbaijani soldiers, as well as one Azerbaijani civilian, between April 8 and June 16, 2016. Armenian artillery fired on Azerbaijani troops on the line of contact on October 5, 2016, killing one Azerbaijani soldier. A skirmish on the line of contact killed one Armenian soldier on October 11, 2016. An Azerbaijani soldier was killed on the contact line on November 15th. Azerbaijani soldiers reported shooting down an Armenian drone that had crossed the line of contact on November 27.

On February 6, 2017, a soldier from Nagorno-Karabakh was killed in fighting with Azerbaijani forces. In a confrontation with Azerbajiani troops near the line of contact on February 8, 2017, one Nagorno-Karabakh soldier was killed and another was wounded. Azerbaijani forces bombarded Armenian positions near the village of Talish with artillery on February 24, 2017. The next day, Azerbaijani forces approached Armenian positions in the same region, resulting in massive combat in which 5 Azerbaijani soldiers were killed.

A guided missile fired by Azerbaijani forces damaged or destroyed a KarabakhOsa air defense system on May 15, 2017. An Armenian soldier was killed in combat with Azeri troops on May 20, 2017, in which the Azerbaijani military used anti-tank grenades and 60mm mortar fire. On May 26, 2017, a soldier from Nagorno-Karabakh was killed in a mortar and grenade exchange with Azerbaijani forces. Azeri forces killed three Nagorno-Karabakh soldiers on June 16, 2017. Nagorno-Karabakh forces killed four Azeri soldiers on June 22, 2017. An Azeri mother and her two-year-old grandson were killed when Armenian forces shelled their village on July 4, 2017. Azerbaijani forces shelled Nagorno-Karabakh on July 10, 2017, killing a soldier. On July 25, 2017, Azerbaijan alleged that a munition thrown by an Armenian UCAV injured one of its soldiers. Armenian military positions shot and blasted at Azerbaijani military positions on August 31, 2017. Large-caliber machine guns were used by the Armenian military.
h. 2018 Clashes:-
On January 7, 2018, an Azerbaijani shooter murdered a soldier from Nagorno-Karabakh near the line of contact. Azerbaijani fire killed a soldier from Nagorno-Karabakh on February 7, 2018. On March 29, 2018, three civilian volunteers were killed in a demining operation in Nagorno-Karabakh. On April 9, 2018, the Azerbaijani fire killed a soldier from Nagorno-Karabakh. On June 10, 2018, a soldier from Nagorno-Karabakh was killed in a confrontation with Azeri forces. A soldier from the Armenian Army was killed by Azeri gunfire while serving at a border station in September 2018. The Azeri army killed two Nagorno-Karabakh troops in the same month.
i. 2020 clashes:-
In July 2020, there were more battles near Tavush. Thirteen Azeris were slain, including one civilian, and five Armenians.

One Armenian soldier was killed in a brief border conflict on September 16, while an Azerbaijani soldier was killed five days later.
j. 2020 Nagorno-Karabakh War:-
Serious fighting erupted in Nagorno-Karabakh on September 27, prompting Armenia to declare martial law and mobilize its forces. Following the skirmishes, Azerbaijan's Parliament proclaimed martial law and imposed curfews in a number of towns and districts. The skirmishes were the worst in terms of casualties since the 1994 ceasefire, alarming the international community.

At the Baku Victory Parade on December 10, a truck with the message "Karabakh is Azerbaijan" was seen. The parade commemorated Azerbaijan's victory in the 2020 conflict.

On November 10, after 44 days of warfare, Russia arranged a cease-fire. All occupied area outside of the former Soviet Nagorno-Karabakh Autonomous Oblast would be returned to Azerbaijan, with Russian personnel ensuring safe passage through the Lachin region, which separates Nagorno-Karabakh from Armenia.
k. Current Border Crisis (2021–Present):-
Azerbaijani army crossed several kilometers into Armenia in the districts of Syunik and Gegharkunik on May 12, 2021, occupying around 41 square kilometers (16 square miles) of Armenian territory. Despite appeals from the European Parliament, the United States, and France – two of the three Co-Chairs of the OSCE Minsk Group – Azerbaijan has not withdrawn its soldiers from internationally recognized Armenian territory.

In July 2021, the issue intensified further, with fighting on the Armenia–Nakhchivan border. The fighting then moved to the Gegharkunik–Kalbajar area, with both sides reporting deaths. The Chair of the Delegation for Relations with the South Caucasus, Marina Kaljurand, the European Parliament's Standing Rapporteur on Armenia, Andrey Kovatchev, and the European Parliament's Standing Rapporteur on Azerbaijan, eljanaZovko, issued a joint statement on 17 November 2021 calling Azerbaijan's military operation on 16 November 2021 the worst violation of the ceasefire agreement to date.
a. ( 1988–1994):-
Between 1988 and 1994, an estimated 28,000–38,000 individuals were slain.

Between 5,856 and 6,000 Armenian military personnel were slain, with 1,264 Armenian civilians also killed. 196 Armenian soldiers and 400 civilians were also reported missing. As of 2014, 239 Karabakhi troops were officially unaccounted for, according to the Union of Relatives of Artsakh War Missing in Action Soldiers.

Azerbaijan claimed 11,557 soldiers died, whereas Western and Russian assessments put the number of dead Azerbaijani combatants at 25,000–30,000. Azerbaijani soldiers and civilians totaled 4,210 and 749 respectively. The total number of Azerbaijani civilians murdered in the conflict is unknown, though the Republic of Nagorno-soldiers Karabakh's killed 167–763 on one day in 1992.
b. (1994–2019):-
Although exact data are unavailable, most observers estimate that 3,000 people, predominantly soldiers, were killed between 1994 and 2009. The fighting got more fierce and frequent in 2008. 2014 was the bloodiest year since the end of the war, with 72 deaths. Heavy fighting along the Nagorno-Karabakh front killed 91 Armenians (11 non-combatants) and 94 Azerbaijani soldiers between April 1 and 5, 2016, with two soldiers still missing. In addition, 15 people were slain (nine Armenians and six Azerbaijanis).

Azerbaijan said that 398 military and 31 civilians were murdered between 1994 and September 2020, just before the conflict began. Between 1994 and 2016, the Caspian Defense Studies Institute NGO estimated that 1,008 Azerbaijani military and over 90 civilians were murdered.
c. 2020:-
Thousands of people were murdered during the two-month conflict in 2020, mostly soldiers but also nearly 200 civilians.

16 Azerbaijani and 8 Armenian military, as well as Azerbaijani civilians, were killed in irregular skirmishes between January and September 2020. On September 27, 2020, a new large-scale conflict broke out, lasting until November 10. According to Azerbaijan, 2,906 Azerbaijani soldiers and 100 civilians were killed in the conflict, with six personnel still missing. According to Armenian authorities, 3,825 Armenian military and 85 civilians were killed in the combat, with 187 servicemen and 21 civilians still missing. 541 Syrian mercenaries fighting for Azerbaijan were also killed, according to the Syrian Observatory for Human Rights. [ Two Russian servicemen were also killed when their chopper was shot down by Azerbaijan while flying close to the Armenian border by accident. In addition, during an Armenian missile strike on Ganja, a 13-year-old Russian citizen was murdered.

By the end of the year, eleven more Azerbaijani military, six Azerbaijani civilians, and one Russian peacekeeper had been killed in the region due to confrontations and landmine explosions.
d. (2021–2022):-
Landmine blasts killed twelve Azerbaijani civilians and two troops in 2021. In border shootouts, seventeen Armenian and 10 Azerbaijani soldiers were killed, while 38 Armenian soldiers were arrested. After that, twenty-eight of the captured Armenian soldiers were released.

On March 25, 2022, three Armenian soldiers were killed and 14 others were injured when Azerbaijani drones attacked Nagorno-Karabakh.
a. Russia:-
On January 23, 2012, Azerbaijani President Ilham Aliyev met with Russian President Dmitry Medvedev and Armenian President SerzhSargsyan.

Russia is officially neutral and has attempted to act as a broker. Russia pushes for a peaceful resolution and moderation amid confrontations in official comments. According to British journalist Thomas de Waal, Azerbaijan claims that Russia has "consistently supported the Armenian side." According to de Waal, Russia "has more helped the Armenian side," but "different Russian actors have supported both sides in this conflict at different periods." President Boris Yeltsin, he claims, did not "wish to see the Armenian side beaten, but he also didn't want to equip them with too much weaponry." "Russia [is] playing both sides," De Waal observed in 2012, "but ultimately more on the Armenian side." Others claim that Russia is involved in both sides of the war. In 2018, Svante Cornell claimed that Russia "has been playing both sides of the Armenia-Azerbaijan conflict in order to obtain maximal control over both, a policy that continues to this day."

"Russia was widely regarded as helping the Armenian stance during the war." The fact that Russia provided military assistance to Armenia contributed to this impression." [ Russian forces indirectly aided Armenian forces by "supplying guns, fuel, and logistical support," according to RazmikPanossian. [4] Russia "made a vital contribution to the Armenian victory" by supplying $1 billion worth of armaments. One of the primary elements in the Armenian victory, according to de Waal, was "more Russian assistance for the Armenians." "However, it is not exactly apparent how this support for the Armenians was translated on to the battlefield; to further complicate matters, the Russians also provided some help to Azerbaijan," de Waal writes.

Russia has been Armenia's principal weaponry supplier since the war, and the two countries are military partners. Russia is sometimes said to as Armenia's sponsor in the conflict, however, this is highly disputed because Russia sells a lot of armaments to Azerbaijan. At the same time, Armenia receives a discount on Russian weapons while Azerbaijan pays the full price.
b. Turkey:-
On February 25, 2020, Ilham Aliyev and Turkish President RecepTayyipErdoan will meet.

Azerbaijan's primary ally in the crisis is commonly seen as Turkey. Turkey, according to Svante Cornell, is the "only country that has consistently stated its support for Azerbaijan." During the war, it gave Azerbaijan "active military assistance." Azerbaijan is also supported diplomatically by Turkey. Turkish and Azerbaijani armed forces collaborate extensively and perform military drills on a regular basis. Turkey has also sold weaponry to Azerbaijan.

After Armenian forces took Kalbajar in April 1993, Turkey blocked its border with Armenia. Prior to it, the border was only open "on-demand and solely for the passage of humanitarian aid (mostly wheat) to Armenia, as well as the operation of the weekly Kars-Gyumri train, which had been crossing the Turkish-Armenian border since the Soviet Union's days."] In sympathy with Azerbaijan over Karabakh, Turkey has repeatedly refused to normalize and establish diplomatic relations with Armenia.
c. Iran:-
Iran is officially neutral and has attempted to act as a mediator on several occasions, most notably in 1992. Iran advocates for a peaceful resolution and restraint during confrontations in official pronouncements. Iranian leaders, on the other hand, have frequently stated their support for Azerbaijan's territorial integrity. "While preserving the territorial integrity of the Azerbaijan Republic, Iran is strongly opposed to any step that might spark violence between the two neighboring countries of the Azerbaijan Republic and Armenia," said Deputy Foreign Minister Abbas Araghchi in 2020.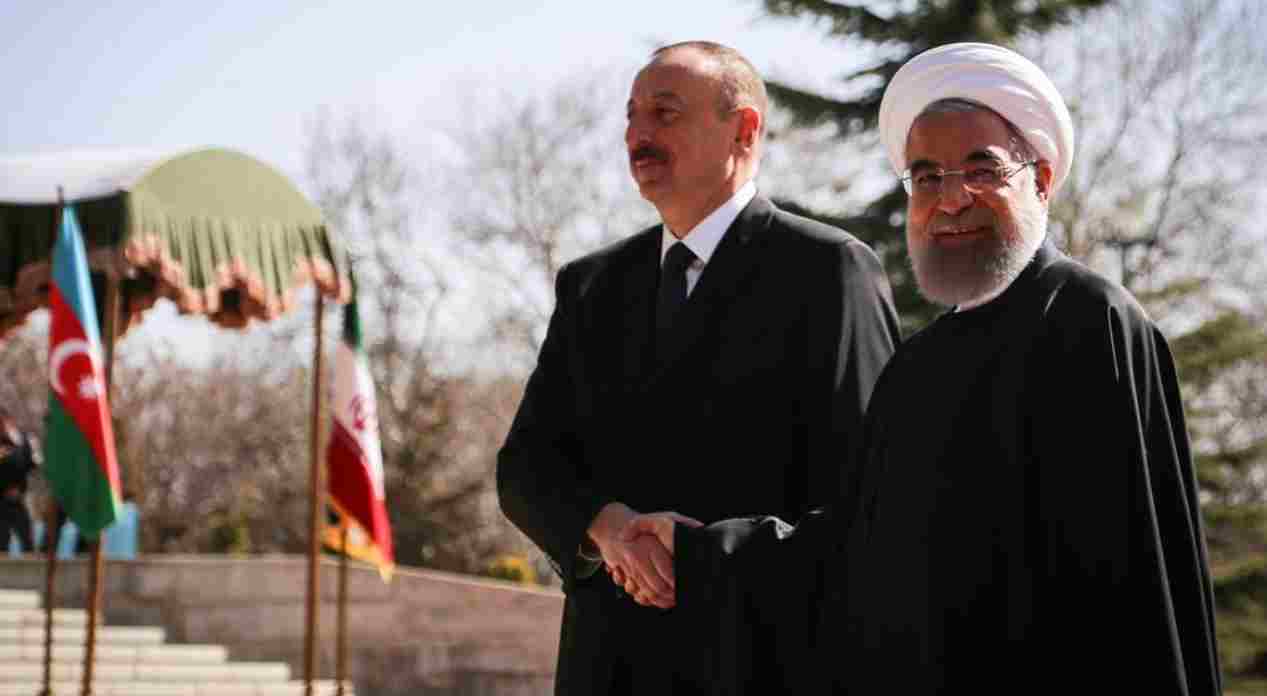 According to Svante Cornell, "Iran was domestically torn in adopting a policy" during the conflict, but de facto "pursued a policy that blended official neutrality with rising support for Armenia." Cornell claims that Iran has "pursued conflict policies geared toward Armenia." Iran's unspoken support for Armenia was, however, restricted to economic collaboration. "As a geopolitical counterweight to Turkey, Iran has significantly backed Armenia, especially by lessening the consequences of the Turkish boycott," TerhiHakala wrote in 1998. Iran was Armenia's "primary provider of electricity and materials during the conflict, and once the Armenian conquest of Karabakh had been finalized, Iranian trucks began to supply most of the breakaway enclave's requirements," according to Cornell. "Iran supported Azerbaijan's territorial integrity and provided some humanitarian aid to [Azerbaijani] refugees," BahruzBalayev says, "but in the meantime, it works closely with Armenia and even the Karabakh Armenian government." "Iran's cooperation with Armenia and tacit backing in the war with Azerbaijan over Karabagh boosted Yerevan's actual and perceived might, and hence may have lowered its sense of urgency to conclude the issue," Brenda Shaffer wrote.

Mohsen Rezaee, the commander of the Islamic Revolutionary Guard Corps (IRGC) during the war, claimed in 2013 that he "personally issued an order […] for the Republic of Azerbaijan army to be appropriately equipped and trained." "Many Iranians killed in the Karabakh War," Rezaee remarked. Many Iranian martyrs of the Karabakh War are buried in Baku, in addition to the wounded who were transferred to [Iran]." Hassan Ameli, a prominent Iranian cleric, alleged in 2011 that Iran supplied Azerbaijan with guns and assisted Afghan mujaheddin in their migration to Azerbaijan. The Iranian embassy in Armenia declared that it does not want inaccurate information to harm amicable Armenian-Iranian relations, saying, "We do not rule out the possibility that there are elements attempting to obstruct our cordial relations." Several rallies in favor of Azerbaijan erupted in Iranian cities in October 2020, including the capital Tehran and Tabriz, with many Iranian Azerbaijanis singing pro-Azerbaijan slogans and condemning Iran's alleged arms supply to Armenia through the Nordooz border crossing.
d. The United States:-
On February 16, 2017, Chairman of the Joint Chiefs of Staff Joseph Dunford met with Azerbaijani Minister of Defense Zakir Hasanov.

In 2000, Thomas Ambrosio said that the United States "supported Azerbaijan's territorial integrity while enacting policies that effectively supported Armenia's irredentist aspirations." In 1998, Sergo Mikoyan contended that the US reaction to the conflict had been "inconsistent, with the legislative and executive branches of authority pulling in opposing directions." The Armenian lobby influenced Congress, while the executive branch (the White House and the State Department) followed a pro-Azerbaijani strategy that "reflects Turkish influence and oil company interests." Similar sentiments were stated by Richard C. Longworth and Argam Der Hartunian.

In 1992, Congress expressed its pro-Armenian attitude by approving Section 907 of the Freedom Support Act, which prohibited any assistance to Azerbaijan. The Senate essentially changed it in 2001, and President George W. Bush waived it beginning in 2002. Both countries receive military assistance from the United States. Azerbaijan received $8.5 million in counternarcotics assistance and $11.5 million in counter-terrorism support between 2005 and 2016. Armenia received only $41,000 in counternarcotics support and none in counterterrorism assistance during the same time period. "Much of the money for Azerbaijan has been earmarked toward naval forces, to lessen the danger that it may be used against Armenia," according to Eurasia Net. The Trump administration raised US military funding to Azerbaijan from less than $3 million in fiscal years 2016–17 to around $100 million in fiscal years 2018–19. According to Emil Sanamyan, the US assistance is largely "provided in the context of US policies to put pressure on Iran and concentrates on Azerbaijan's Iranian border, but it also has repercussions for Armenia." Armenia received $4.2 million in US security assistance in FY 2018.
Between 1998 and 2010, the US gave $36 million in humanitarian help to Artsakh, including demining. Azerbaijan has denounced the humanitarian aid for legitimizing the "illegal regime in the seized regions" and damaging the US's position as an impartial mediator.
4. (2) Arms Suppliers:-
Several foreign groups fought on both sides during the bloody conflict of 1992–94. Both sides deployed mercenaries during the war, according to Human Rights Watch (HRW), with "Russian, Ukrainian, and Belorussian mercenaries or renegade units of the Soviet/Russian Army fighting on both sides."
a. Azerbaijan
Azerbaijan used mercenary pilots extensively. "Most informed observers assume that mercenaries pilot the majority of Azerbaijan's air force," according to HRW.

Chechen militants, Afghan mujahideen, members of the Turkish nationalist Grey Wolves, and the Ukrainian nationalist UNA-UNSO fought on the Azerbaijani side. Shamil Basayev, who later became Prime Minister of Ichkeria (Chechnya), and Salman Raduyev led the Chechen fighters in Karabakh. In 1992, Basayev famously took part in the Battle of Shusha. Ibn al-Khattab, a Saudi by birth, may have also joined them. The Hezb-e Islami, commanded by Afghan Prime Minister Gulbuddin Hekmatyar, was largely linked with the Afghan mujahideen. They were mercenaries, according to HRW, because they were "obviously not motivated by religious or ideological objectives." Azerbaijani authorities disputed the recruiting of Afghan mujahideen, which was allegedly handled by paramilitary police chiefRovshanJavadov. They landed in Azerbaijan in the fall of 1993 in groups of 1,500 to 2,500 or 1,000 to 3,000 people. Saudi Arabia allegedly paid for them, according to Armenia. During the war, the Afghan mujahideen formed the largest influx of foreign fighters. As of September 1994, approximately 200 Grey Wolves remained in the war zone, training Azerbaijani forces.
b. Armenia
On the Armenian side, 85 Russian Kuban Cossacks and roughly 30 Ossetian volunteers battled. In the village of Vank, a khachkar was dedicated in May 2011 in honor of 14 Kuban Cossacks who died in the war. Volunteers are said to have come from both South and North Ossetia (Georgia) (Russia). In total, 12 diaspora Armenian volunteers served in the war, with four of them dying. Members of the Armenian Revolutionary Federation (Dashnaks), according to David Rieff, "performed a considerable proportion of the fighting and dying," including "a substantial number of volunteers from the diaspora." The war included former members of the Armenian Secret Army for the Liberation of Armenia (ASALA).
4. (3)  Diplomatic Support:-
a. Artsakh And Armenia:-
Artsakh (Nagorno-Karabakh Republic) has obtained diplomatic recognition and support from three partially recognized states: Abkhazia, South Ossetia, and Transnistria, particularly during the 2016 conflicts.

Greece had a pro-Armenian stance during the war and supported it in international forums. Cyprus denounced Azerbaijan for breaking the ceasefire during the confrontations in April 2016 and July 2020.

According to reports, in 1993, Armenian President Levon Ter-Petrosyan told the Greek envoy that France and Russia were Armenia's only allies at the moment.

 According to the US, Read Department cable revealed in 2020, the French ambassador to the United Nations, Jean-Bernard Mérimée, was successful in modifying the wording of UNSC Resolution 822 to state that "local Armenian forces" occupied Kalbajar rather than "Armenian forces." He also urged that the Armenian seizure of Kalbajar be treated as a dispute under Chapter VI of the UN Charter, rather than Chapter VII (an act of aggression).
b. Azerbaijan:-
Several countries and international organizations have shown clear diplomatic support for Azerbaijan in the crisis. Turkey and Pakistan are Azerbaijan's most powerful diplomatic allies, with Pakistan being the only UN member state refusing to recognize Armenia's independence in support of Azerbaijan. Azerbaijan is also supported by Turkey-backed Northern Cyprus (Turkish Cyprus). The Turkic Council and the Organization of Islamic Cooperation (OIC) have repeatedly backed Azerbaijan's position. Some members of these organizations, notably Uzbekistan and Saudi Arabia, have regularly expressed support for Azerbaijan's position. Lebanon, on the other hand, has refused to support OIC resolutions that support Azerbaijan.

Three post-Soviet governments with territorial issues have offered diplomatic assistance to Azerbaijan, specifically for its territorial integrity: Ukraine, Georgia, and Moldova. These three countries, along with Azerbaijan, make up the GUAM organization, which also supports Azerbaijan's position in the format. Serbia openly supports Azerbaijan's territorial integrity, despite its own territorial dispute over Kosovo.

Despite their nominal affiliation with Armenia, Kazakhstan and Belarus tacitly back Azerbaijan's position, particularly inside the Eurasian Economic Union (EEU) and the Collective Security Treaty Organization (CSTO).

Azerbaijan has received backing from both Palestine and Israel.
c. 2008 UN Vote:-
The UN General Assembly passed a resolution on March 14, 2008, that "reaffirmed Azerbaijan's territorial integrity, expressing support for that country's internationally recognized borders, and demanding the immediate withdrawal of all Armenian forces from all occupied territories there." It was approved by a vote of 39 in favor to 7 against, with the majority of countries abstaining or absent. It was largely backed by Muslim countries (31 were members of the OIC). Three post-Soviet governments, Georgia, Moldova, and Ukraine, as well as five other nations, Cambodia, Colombia, Myanmar, Serbia, and Tuvalu, backed the resolution. As a result, it received backing from seven OSCE nations, one NATO member (Turkey), and no EU member.

Angola, Armenia, France, India, Russia, the United States, and Vanuatu were all against it. The co-chair countries of the OSCE Minsk Group (France, the United States, and Russia) voted against the resolution. They said that it "selectively propagates only certain of [the essential] ideas to the exclusion of others, without taking into account the Co-Chairs' proposal in its whole." The co-chair countries denounced it as a unilateral resolution that "threatens to undermine the peace process," but reaffirmed their "support for Azerbaijan's territorial integrity, and so do not accept NK's independence."
Ceasefire And International Mediation
In May 1994, Armenia and Azerbaijan signed a ceasefire brokered by Russia, and peace talks have been ongoing since then, mediated by the OSCE Minsk Group (Russia, the United States, and France). Azerbaijan has accused the Minsk Group (Russia, the United States, and France) of being pro-Armenian on numerous occasions. When the OSCE chose France to co-chair the Minsk Group in 1996, Azerbaijan asked the OSCE to reconsider the decision since France was seen as pro-Armenian by Azerbaijan. Svante Cornell, whose Institute for Security & Development Policy is funded by the European Azerbaijan Society (TEAS), the official Baku lobbyist organization, argued in 1997 that France, the United States, and Russia are "more or less biassed towards Armenia in the conflict." Azerbaijan accused the United States and France of bias in 2018 after Bako Sahakyan, the president of Artsakh, visited their countries.
Top 13 Interesting Facts About Nagorno- Karabakh Dispute
December 1-2 1987:-
A protest by the inhabitants of the Armenian-populated village of Chardakhly against the firing of the head of the village is suppressed by the Azerbaijani police.
February 13, 1988:-
Protestors in Stepanakert, the center of the Nagorno Karabakh Autonomous Oblast (NKAO), demand the re-unification of NKAO with the Armenian Soviet Socialist Republic (SSR)
February 20, 1988:-
An extraordinary session of the Nagorno Karabakh Autonomous Oblast (NKAO) Soviet of People's Deputies passes a resolution to unify the region with Armenia. No representatives of Azerbaijan attended.
February 26, 1988:-
A large number of people rally in Yerevan in support of NKAO's re-unification with the Armenian SSR.
February 27-29, 1988:-
The Armenian population of the Azerbaijani city of Sumgait is forced out during a wave of violence. The causes of the trouble are disputed.
June 15, 1988:-
The Supreme Soviet of the Armenian SSR gives its consent for NKAO's inclusion into the Armenian SSR, on the basis of Article 70 of the USSR Constitution. The equivalent body in Azerbaijan responded by rejecting the decision.
July 18, 1988:-
The Presidium of the Supreme Soviet of the USSR rules that Nagorno Karabakh should remain part of Azerbaijan.
September 21, 1988:-
Moscow introduces emergency measures to restore order in NKAO.
December 10, 1991:-
A few days before the official collapse of the Soviet Union, Nagorno-Karabakh held a referendum, where a majority of 99.89% voted for full independence from Azerbaijan.

Most Azeris in the region were unable or unwilling to vote.

Baku described the action as illegal and ended the autonomy Nagorno-Karabakh had enjoyed under Soviet times.

In the violence that followed, Armenia troops supported the breakaway movement as Azerbaijan attempted to restore its control. Around 25,000 people were killed and many times more forced out of their homes.
May 1992:-
Armenian forces take territory forming linking Armenia with Nagorno Karabakh. They will extend these gains in the coming year.
June 12, 1992:-
The Azerbaijani forces begin large-scale offensives resulting in the taking of the Shahoumian region, the northern part of the Martakert region, and the eastern part of the Askeran region.
April 1993:-
The UN Security Council adopted the first of a series of resolutions calling for the withdrawal of pro-Armenian forces.
May 9-11, 1994:-
A Russian mediation team draws up a comprehensive ceasefire agreement. The defense authorities of Azerbaijan, Armenia, and Nagorno Karabakh sign the document. The agreement became effective on May 12, 1994.

A "demilitarized zone" is defined to limit conflicts. Both sides have crossed for attacks that have caused deaths since 1994.
While a ceasefire has been in place since 1994, no peace treaty has been signed.

The region is a strategic area for oil and gas pipelines.
For deep details, you can read the full article. Click the link below :