The Ganga is a river that crosses at least one political border of Asia and flows through India and Bangladesh. It either crosses international or state boundaries. The 2,704 km (1,680 mi) river rises in the western Himalayas in the Indian state of Uttarakhand. It flows south and east through the Gangetic plain of North India, receiving the right-bank tributary, the Yamuna, which also rises in the western Indian Himalayas, and several left-bank tributaries from Nepal that account for the bulk of its flow. In West Bengal state, India, a feeder canal taking off from its right bank diverts 50% of its flow southwards, artificially connecting it to the Hooghly river. The Ganges continues into Bangladesh, its name changing to the Padma. It is then joined by the Jamuna, the lower stream of the Brahmaputra, and eventually the Meghna, forming the major Ganges Delta estuary and emptying into the Bay of Bengal. The Ganges-Brahmaputra-Meghna system is the third largest river on earth by discharge.

River Ganga provides water to 40% of India's population, the Ganga is considered a lifeline of India. Additionally, it is a source of irrigation for a wide variety of crops. The Ganges Basin has fertile soil that largely influences the agricultural economies of India and its neighboring country Bangladesh. River Ganga also supports fishing industries, making it an agricultural and professional necessity for the livelihood of Indians.

Varanasi, Haridwar, Gangotri, Allahabad, and Rishikesh are the prime destinations that have great religious significance for Hindu devotees. Allahabad and Haridwar are renowned for organizing Kumbh Mela, a grand holy fair, and Haridwar is revered as the "Gateway to Heaven." Many travel enthusiasts visit these beautiful cities located on the banks of Ganga. 
The Ganga basin is a part of the Ganga-Brahmaputra basin draining Tibet, Nepal, India, and Bangladesh. The Gangotri glacier is the source of water for the river Ganga. The Ganga River has got two main water bodies mainly Alakhnanda and Bhagirathi. River Ganga makes the largest delta in the world for example Sundarbans delta which is highly fertile. The headwaters of the Ganga called the Bhagirathi are fed by the Gangotri Glacier. Ganga flows eastwards till Farakka in West Bengal which is the northernmost point of the Ganga delta. The length of the Ganga is over 2500 km. River Ganga with River Brahmaputra forms the world's largest Sunderban delta. The Ganga is joined by many tributaries from the Himalayas, a few of them being major rivers such as the Yamuna, the Ghaghara, the Gandhak, and the Kosi. The Yamuna flows parallel to the Ganga and as a right bank tributary, meets the Ganga at Allahabad. Three left banks and three right bank tributaries of the river Ganga. The left bank tributaries are Gomti, Gandhak, and Kosi, and right bank is the Yamuna, son, and Tamsa. Haridwar is the place where the river Ganga leaves the mountains to enter the plains. The Ganga river system represents a dendritic pattern and is the largest basin in India. It is also capable of producing hydroelectricity in huge amounts.
Mythological Story About Ganga Sagar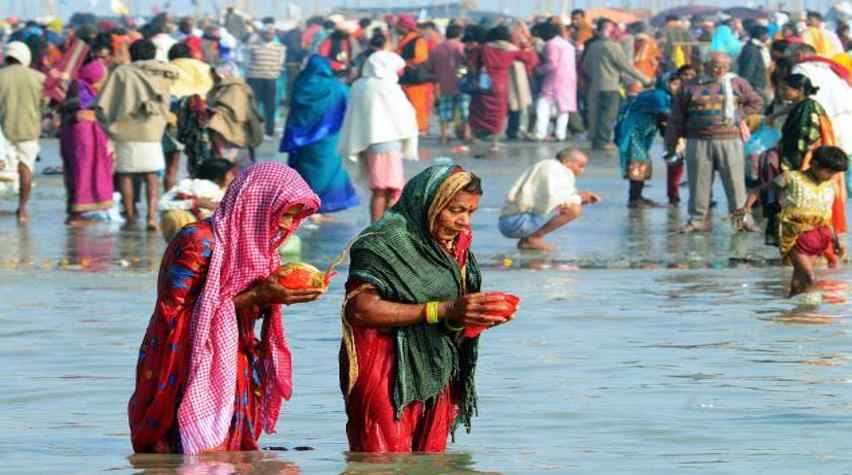 This sacred place is primarily important for the temple Of Kapil Muni, the great saint who according to myth was Lord Vishnu. Kapil Muni was the son of Kardam Muni. In the myth history, it was said that Kardam Muni had to go through his marital life according to the directions of Lord Vishnu, but Muni agreed on this under a condition & as per condition Muni wished Lord Vishnu to have him as his son. As per this condition, Lord Vishnu had taken birth & named Kapil Muni. Kapil Muni's mythological story is related to the story of bringing the Holy River Ganga to this place. The mythological story is something like King Sagar's 60,000 sons came to this place in search of their father's Sacrificial Horse & they found it there. The horses were stolen by Devraj Indra & hidden at 'Patal' (below the earth) beside Kapil Muni's hermitage. But the king's sons were unknown with it, when they saw Kapil Muni there, they started to blame him for stealing & interrupted Muni's meditations. Muni became angry & his blaze of anger came out of his eyes, which burnt king's sons & consigned their souls into hell

Many years later king's grandson king Bhagirath came to Kapil Muni to beg & pray to Muni to release the souls from hell. Then according to Kapil Muni's directions, king Bhagirath brought Devi Ganga to this place & with the touch of this holy river's water the souls got liberty. As per the myth, the souls were liberated on the day of "Makar Sankranti" So to release their own souls from pain, sin & earn virtue people come here from all over India & take a holy shower in this holy Sagar (Island) & earn blessings & worship the great saint, Kapil Muni.
Starting Of Ganga Sagar Mela
The Ganga Sagar festival is celebrated on the 14th of January every year during Makar Sankranti. Although the annual fair runs on Sagardwip Island for around two whole months of January and February, the day of Makar Sankranti is the ideal and righteous day of offering prayers. Because the day is super crowded with pilgrims all over the world, you can also attend the Mela in the month of February and other days of January. Ganga Sagar Mela is the day when millions of pilgrims from all over the world gather to take a sacred dip in the holiness of River Ganga. On the sacred occasion of Makar Sankranti (14th January), in Sagar Island's silver sand acres, the festival is celebrated with grandeur followed by a sacred pooja and offerings in the Kapil Muni Temple. The annual fair runs on the holy river Gangotri banks for two months (January – February), usually crowded the most on the Makar Sankranti. The crowd comprises pilgrims from all over the country, Nepal, Thailand, Canada, West Indies, Australia, and many more. People from all over the world unite at the banks of the converging holy rivers the Ganges and Bay of Bengal to celebrate and indulge, transforming themselves into great souls of purity.
Importance Of Ganga Sagar Mela
India is blessed with diverse cultures and each region has its own traditions and festivals they celebrate with pride and joy. Ganga Sagar Mela is one such festival of India celebrated from 14th – 15th January every year attracting thousands of pilgrimages from all around the world. The globally acclaimed spiritual and cultural event of the nation known as Ganga Sagar Mela 2022, or Ganga Sagar Yatra or Ganga Snan is gearing up to welcome you in January 2022. The hosting state of West Bengal receives this fair with great pride and with devout. Held during the wintertime of the year, it finds thousands of devotees coming over to seek righteousness at Sagar Island's southern tip in West Bengal. Ganga Sagar Mela 2022 is an annual gathering of Hindu pilgrims who look forward to this day.

The Mela is celebrated with solemnity. Here on this day, there are thousands of pilgrims across India coming and getting one with the Mela. Foreigners too find it fascinating to witness a fair such as this. There is thereby a different population also who seek to find solace here. Ganga Sagar fair is primarily a Hindu festive. It is said that the Ganga Sagar has seen its importance from Mahabharata time. If it is to be believed, the significance of taking a bath at the Sagar was explained to Bhisma by a learned sage. The virtue of purification of the soul and evil deeds appealed to every Hindu, and they practice the same. Ganga is regarded as the holiest river in the Hindu religion. It is said that by taking a holy dip in her lap, it cleanses your sin. This is the reason why it is held during the winter. The water is cold, but the devotees still take the dip to find renaissance as it is the most auspicious day of the year. Ganga Sagar Mela is regarded as the second largest throng fair in human history (Kumbha Mela is said to hold the highest number of pilgrims in India).
How To Reach Ganga Sagar Mela
To attend Ganga Sagar Mela, you will require to reach Sagardwip first which is located at just 124 km away from Kolkata. Whereas the Kolkata is well connected from all other regions of India, and you can reach Sagardwip via:
1. Railways
Innumerable trains are connecting to Howrah station from various parts of the country. Therefore, reaching Howrah station should not be a problem

There is a State Transport Corporations or even private transport operators who can take you to the destination if you reach Howrah station or Outramghat, or Esplanade in Kolkata.

There are also EMU train services which can be boarded at Sealdah southern section which will take you till Kardwip. Once you reach Kardwip, any local auto rickshaws will take you to the destination.

The other option is to take the jetties from Namkhana railway station.
2. Roadways
In case you want to get driving pleasure, you must reach Kolkata and then head towards Kardwip which will be a more comfortable route.

Therefore, if you are from Mumbai, Delhi, or Chennai (taking the major cities into account) the following should help you.

Mumbai to Kolkata- via NH 53

Delhi to Kolkata- via NH 19

Chennai to Kolkata – via NH 16
3. Airways
Land at Netaji Subhas Chandra Bose International Airport in Dum Dum, Kolkata. After this, the same procedure for roadways can be followed.

What's great is that there are helicopter services operated Every Sunday by the West Bengal Government to reach Ganga Sagar.
Problem Faced Because Of Ganga Sagar Mela
The Ganga Sagar Mela, which is the second largest congregation of people after the Kumbha Mela, will go online due to the Covid pandemic like Durga Puja and Kali Puja.

The state government has come up with an e-darshan App wherein devotees will be able to experience a 'virtual tour' of Kapil Muni's temple from their homes. The events at the fair will be live streamed via this App.

A decision in this regard was taken at a meeting to take stock of the Mela preparations in Nabanna today. Chaired by state chief secretary Alapan Bandopadhyay, senior officials of many departments like rural development, power, urban development, and fire services were present at the meeting. Among the Covid management initiatives that have been planned this time include setting up medical camps at railway stations, testing facilities, safe homes, quarantine centers, and isolation wards.

In view of the pandemic, there will be an increase in the number of buses within Sagar Island and Outram Ghat to Kakdwip/ Namkhana.

Two air ambulances and three water ambulances would be pressed into service this time to help critically ill persons to reach the nearest medical facilities from the Ganga Sagar Mela.

Like in previous years, an adequate number of CCTVs, drones, and quick response teams would be deployed for monitoring the movement of pilgrims.

Every year hundreds of devotees take a holy dip at the confluence of the river Ganga at the annual Ganga Sagar Mela in Sagar Island on Makar Sankranti. However, conducting the fair by maintaining the Covid protocols is a tough challenge for the state administration this year.
Governments Initiatives About Ganga Sagar Mela
Amit shah promises to make the Ganga Sagar Mela an international pilgrimage. The government has taken measures against Covid-19. West Bengal's Covid-19 positivity rate touched a high of 33.89% and daily cases touched 24,284, the government at present is facing the toughest challenge to organize the nine-day-long Ganga Sagar Mela, which had already begun on January 8. Although the state has mentioned in an affidavit to the Calcutta High Court that 30,000 people have already gathered for the event, a footfall of more than 5 lakh is expected this week. 

The Calcutta High Court had given the approval for the event, however, calling for "strict adherence to Covid-19 norms". The court had ordered the government to set up a committee, which will oversee the arrangements and take steps depending on the emergency. There is an assumption that the Covid -19 cases may get higher. About 2,250 West Bengal Transport Corporation buses and 500 private buses will carry pilgrims to Ganga Sagar from railway stations, airports, and bus stands. Nearly 21 jetties will be operational, 4 barges, 32 vessels, and 100 wooden boats will be deployed at Lot-8 and Namkhana for trans-shipment. 'Sagar Bandhu' will be present in all the buses plying within Sagar Island. Additional trains will be arranged from Howrah, Sealdah, and Namkhana. Around 12 buffer zones have been built along NH-117 and MDR for regulating passenger vehicles. Speed restrictions have been imposed on all vehicles. Single-ticket solution for the entire trip has been initiated for seamless travel to Ganga Sagar. About 51 km of metal and temporary barricading has been done for the movement of the crowd. Directional signage has been installed on all major roads, Mela points, and pilgrim facilities. Real-time tracking of pilgrims is being done for which 1,050 CCTV cameras have been placed at all important locations. Around 20 drones will track the event and GPS-guided Intelligent Crowd Monitoring will be done through an Integrated Control Room. Feed will be provided to Nabanna's control room as well for monitoring. An intensive Care Unit and 24X7 post-mortem facilities will be provided on Sagar Island. Upgraded healthcare service at Namkhana, Chemaguri, Lot-8, Rudra Nagar, and Sagar will be ensured for better health service. A total of 300 bedded health facilities will be made available in and around Sagar and Kakdwip area. One air and three water and 85 ambulance vehicles will be deployed for emergency situations. Enough specialist doctors along with paramedics and nurses will be pressed into service at Sagar and Lot-8. A Green Corridor will be available for the evacuation of patients. Online broadcasting of Ganga Sagar Mela (e-Darshan), virtual delivery of Prasad (e-prasad), and doorstep delivery of holy water (e-Snan) will be available for pilgrims. Pilgrims Transport Management System (PTMS), digital strips for missing personnel, a mobile app for general information, and Covid watch software are also in place.

The Home and Hill Affairs department, PHE, PWD, Disaster Management, Fire and Emergency, Health and Family Welfare, Irrigation and Waterways, Transport, I&CA, Tourism, WBSEDCL, and South 24 Parganas district administration is making most of the above arrangements for the Ganga Sagar Mela.

The high court has asked the state government to comply with its own restrictions of not allowing more 50 people at a gathering. Arrangements such as the deployment of police, barricading, partitioning, training of police and volunteers, and restriction in movement, have been planned so rules are not violated. 
Top 13 Interesting Facts About Ganga Sagar Mela
1. The core reason for Ganga Sagar Mela lies in Kapil Muni's ashram where people offer prayers after the holy dip at Gangotri to exonerate one's sin.
2. Bakkhali Beach- A lesser-known uncommercialized beach is worth the visit. The silver sands with Casuarina trees is pure bliss.
Directions- A bus ride from Kolkata to Namkhana, followed by a ferry ride.
3. Frazerganj- The place spotted just 2kms north of Bakkhali, Frazerganj houses a huge wind energy farm that generates about 1MW of energy.
Directions- A cycle van is a fun ride to reach Frazergunj from Bakkhali. You can opt for a direct landing from Kolkata as well.
4. Kapil Muni Temple- It is an incomplete tour to Ganga Sagar Mela if you skip Kapil Muni Temple. The core reason for Ganga Sagar Mela lies in Kapil Muni's restored Ashram where people offer prayers after the holy dip at the Gangotri to exonerate one's sins.
5. Onkar Nath Temple- Yet another peaceful temple surrounded by luscious green trees at Sagardwip, Onkar Nath temple is devoted to lord Onkar and his preaching.
6. Ganga Sagar offers acres of silver sand and clear blue sky and a calm sea for visitors who would like to spend their weekend in tranquillity. Ganga Sagar has acres of dazzling silver sand and clear blue sky; Ganga Sagar is still relatively unknown and thus unexploited.
7. In the poems of Rabindranath Tagore, we can find some explanations and uses of the Ganga Sagar Mela.
8. The lighthouse at Ganga Sagar has a view of the beach, sunrise, and sunset.
9. On the day of Makar Sankranti (January 14), when the sun makes a transition to Capricorn from Sagittarius, it is said that the bath becomes a holy source of salvation.
10. Apart from the general pilgrims, the assemblage of Naga Sadhus here gives a unique identity to this fest.
11. Among thousands of pilgrims who attend Ganga Sagar Mela are the Naga Sadhus. They live in camps, where they perform rituals. These rituals are attended by many devotees. They even perform various forms of yoga, which are meant for others to watch. Some Naga Sadhus have white paint smeared all over their bodies and some are without it. These Naga Sadhus are one of the biggest attractions in the Ganga Sagar Mela.
12. Ganga Sagar Mela is one of the most famous religious theme fairs in India.
13. King worship shiva and requested Parvati to come on the earth in the form of Ganga.