Name

Sandeep Unnikrishnan

Born

15 March 1977

Kozhikode, Kerala, India

Died

28 November 2008 (aged 31)

Mumbai, Maharashtra, India

Service/branch

Indian Army

Years of service

1999–2008

Rank

Major

Service number

IC-58660

Unit

51 SAG, NSG

7 Bihar

Bihar Regiment

Alma mater

The Frank Anthony Public School, Bangalore

National Defence Academy

Indian Military Academy

High Altitude Warfare School

Commando School Belguam
Major Sandeep Unnikrishnan AC (15 March 

1977 – 28

November 2008) was an Indian Army officer on deputation with the National Security Guards' elite 51 Special Action Group. During the Mumbai attacks in November 2008, he was killed in action. On January 26, 2009, President Pratibha Patil presented him with the Ashoka Chakra, India's highest peacetime gallantry honor.
Early Life And Family Background
Sandeep Unnikrishnan was born into a family that had relocated to Bangalore from Cheruvannur in Kerala's Kozhikode district. K. Unnikrishnan, a retired ISRO officer, and Dhanalakshmi Unnikrishnan were his parents.
Operation Vijay

Operation Parakram

Operation Rakshak

Counterinsurgencies

Operation Black Tornado
Educational Background And Military Career
Completed schooling in The Frank Anthony Public School, Bangalore and he holds a Bachelor of Arts degree. National Defence Academy in 1995 he graduated as a lieutenant.

He also graduated from the Indian Military Academy (IMA) in 1999. He was also trained in High Altitude Warfare School, Gulmarg. And served in different locations like Siachen, Jammu and Kashmir, Gujarat (during the 2002 Gujarat Riots), Hyderabad, and Rajasthan, he was selected to join the National Security Guards. After the completion of training, he was assigned as the training officer of the 51 Special Action Group (51 SAG) of NSG, in January 2007 and also participated in various operations of the NSG.
Ashoka Chakra,

Operation Parakram Medal,

Special Service Medal,

Sainya Seva Medal,

High Altitude Service Medal,

9 Years Long Service Medal
On November 26, 2008, a group of Pakistani terrorists armed with A K Rifles, grenades, and IEDs carried out a series of terrorist assaults in Mumbai, including at Chhatrapati Shivaji Terminus, Leopold Cafe, Hotel Taj, Hotel Trident – Oberoi, and Nariman House. At midnight of November 26/27, the National Security Guard was airlifted from New Delhi to Mumbai. Because terrorists were targeting various places, Task Force was appropriately divided to engage all targets at the same time. Troops entered by several entries/gates at Nariman House, Hotel Taj, and Hotel Trident – Oberoi, while troops were heli inserted into Nariman House. The operation was code-named "Operation Black Tornado" by the National Security Guard. The operation, in which eight hardcore terrorists were neutralized, was a superb illustration of grit and resolve on the part of National Security Guard forces.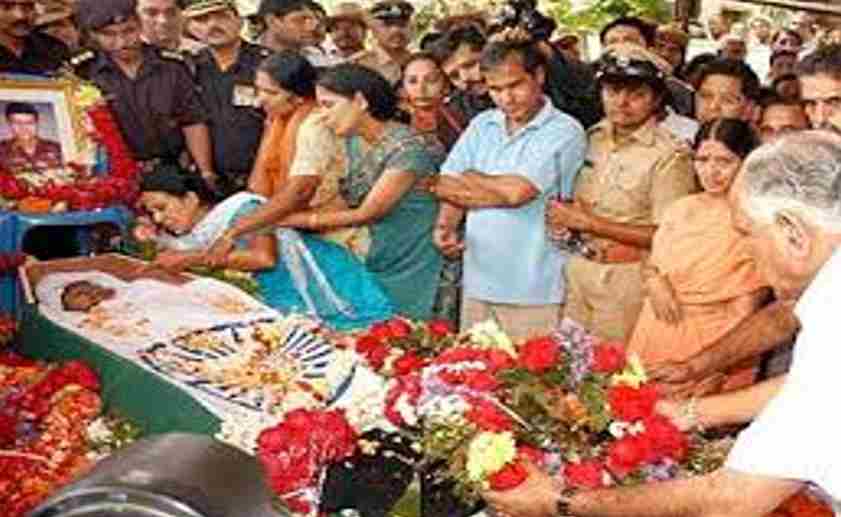 "Sandeep Unnikrishnan Amar Rahe" ("May Sandeep Unnikrishnan's name remain forever") was chanted at Sandeep's funeral. Thousands of people gathered in front of his home in Bangalore to offer their respects. Full military honours were accorded him at his funeral.

In his honour, the Mother Dairy Double Road in Bangalore was renamed Major Sandeep Unnikrishnan Road, which runs for 4.5 kilometres (2.8 miles) from Federal-Mogul on Doddaballapur Road to MS Palya junction within Yelahanka New Town.

Sandeep's bust is named after him and is located at the Ramamurthy Nagar Outer Ring Road junction in Bangalore.

Sandeep's sacrifice is honoured and young students are inspired by a bust of him at the entrance of the Indian Education Society on Jogeshwari Vikhroli Link Road in Mumbai.
Major Sandeep Unnikrishnan Memorial Trust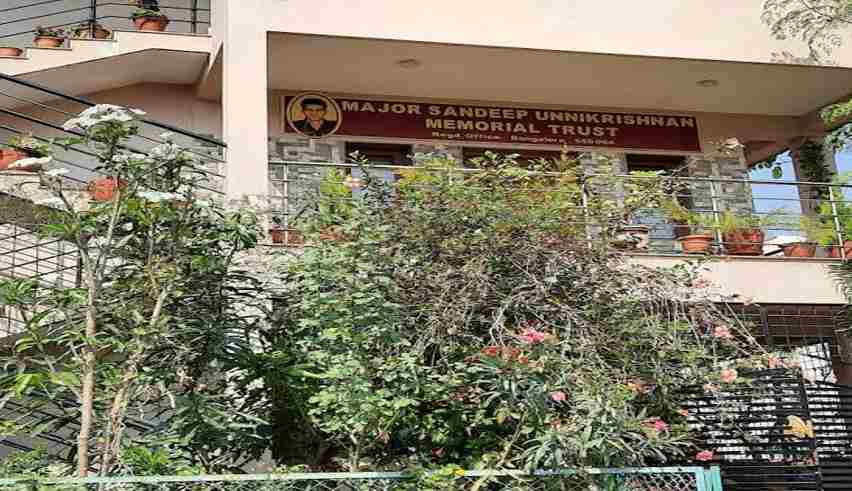 This is not a for-profit organization. Major Sandeep Unnikrishnan has made the ultimate sacrifice defending terrorists at the Taj Mahal Palace Hotel. This Trust and Archive are located at his Bangalore house. Visitors are only permitted with his parents' permission.
A Repaired Granite Stone Plaque Remembering 26/11 Martyr Major Sandeep Unnikrishnan
A granite stone plaque remembering 26/11 martyr Major Sandeep Unnikrishnan was discovered destroyed in Yelahanka, Bengaluru (15 September 2018).

Tensions rose after residents learned that miscreants may have caused the damage until police arrived on the scene to clarify that the damage was caused by an accident caused by rash driving.

The Deccan Chronicle quoted a traffic police inspector from Yelahanka New Town as stating, "On Saturday evening, a mini-truck from Mother Dairy ran out of control and slammed into the structure." Major Sandeep Unnikrishnan's name was carved on a granite stone slab, which fractured into several pieces. Workers from the BBMP apprehended the driver and eventually tracked down the truck's owner."

The location has already been inspected by the BBMP joint commissioner, who has asked the engineers to repair the damage."
This heart-touching incident of Major Sandeep Unnikrishnan made the filmmakers recreate it.
The Attacks of 26/11 (2013)

Black Tornado (2018)

State Of Siege:26/11 (2020)

Major (2022)
Top 13 Facts About Major Sandeep Unnikrishnan
Major Sandeep Unnikrishnan's life span was 31 years.

He was ranked as a major in 2005.

Major Sandeep Unnikrishnan was the only child of his parents.

Major Sandeep Unnikrishnan's parents have grown accustomed to spending a significant portion of their time attending events or meeting people.

Her name is Neha. The wedding bliss was short-lived and they headed for a divorce within just a few months of marriage. The Internet provides very less info about her.

On November 27, 2008, Sandeep Unnikrishnan was sent to Mumbai for duty. On November 26, 2008, several prominent structures in Mumbai were targeted, including the 100-year-old Taj Mahal Palace Hotel.

When he went up against the terrorists alone at Mumbai's Taj Mahal Palace Hotel, he was killed. The terrorists fired fire on him, injuring his body fatally. The next day, his body was discovered in a pool of blood, with multiple bullet wounds.

The terrorists could track and defeat Sandeep by the media live show while implementing operation black tornado.

The film depicts how real-life hero Major Sandeep Unnikrishnan (Adivi Sesh) saved the lives of so many people hostages before being slain by terrorists in Mumbai's Taj Mahal Palace on November 26, 2008, during the tragic attack on the heritage hotel. Which was simultaneously shot in Telugu and Hindi, the film was later dubbed in Malayalam.

He went up intentionally, he wanted to bring all the 4 terrorists in one room to stop their terrorist activities, to complete the operation said his father in an event of a Major movie Trailer Launch.

His last words were "Don't come up! I will handle them".

His last talk was with his father, saying that to switch on the TV to watch live telecasts from Mumbai.

Ashoka Chakra (AC) was received by his mother from President Pratibha Patil on 26 January 2009.