Rate and comment on The Squid Game S01 series below.
Squid Game is a South Korean web series released on September 17, 2021, and directed by Hwang Dong-Hyuk. This web series has become the world's most-watched Netflix show. Squid Game nine-episode series that is brutal yet edge-of-seat watch. 
View – 111 million viewers in its first month.
| | |
| --- | --- |
| Title | Squid Game |
| Release on | Netflix |
| No. of season | 1 |
| Released date | 17 September 2021 |
| Episodes | 9 |
| Language | Hindi, English and Korean |
|  Originated Country | South Korea |
| Genre | Thriller, Action, Drama and survival |
| Director | Hwang Dong-hyuk |
| Production House | Siren Pictures Inc |
| Budget | $ 21.4 Million |
| Box-Office Collection | $900 Million |
Some ratings which are given by IMDb and Rotten Tomatoes are below
Squid Game proves to be the most watched Netflix series that revolves around Seong Gi-hun, a divorced and indebted person, who is invited to play a series of children's games for a chance to earn a large cash prize. When he accepts the offer, he is taken to an unknown location where he finds himself among 455 other players who are also deeply in debt. The players are made to wear green tracksuits and are kept under watch at all times by masked guards in pink jumpsuits.
The games are seen by the Front Man, who wears a black mask and black uniform. The players soon discover that losing the games results in their death. By the end, almost half of all the players are eliminated with the rest in shock regarding what they have signed on for. Gi-hun allies with other players, including his childhood friend Cho Sang-woo, to try to survive the physical and psychological twists of the games.
Talking about the theme of this series deals with the increasing income and economic inequality in South Korean society. How certain rich section of society dominates the rest of society for their leisure and fun. Series show that these themes are applied to capitalism across the globe today.

This series was introduced during the 2022 South Korean presidential election, as result, several of the candidates began using some of the Squid Game images in their political advertisements and challenging opponents.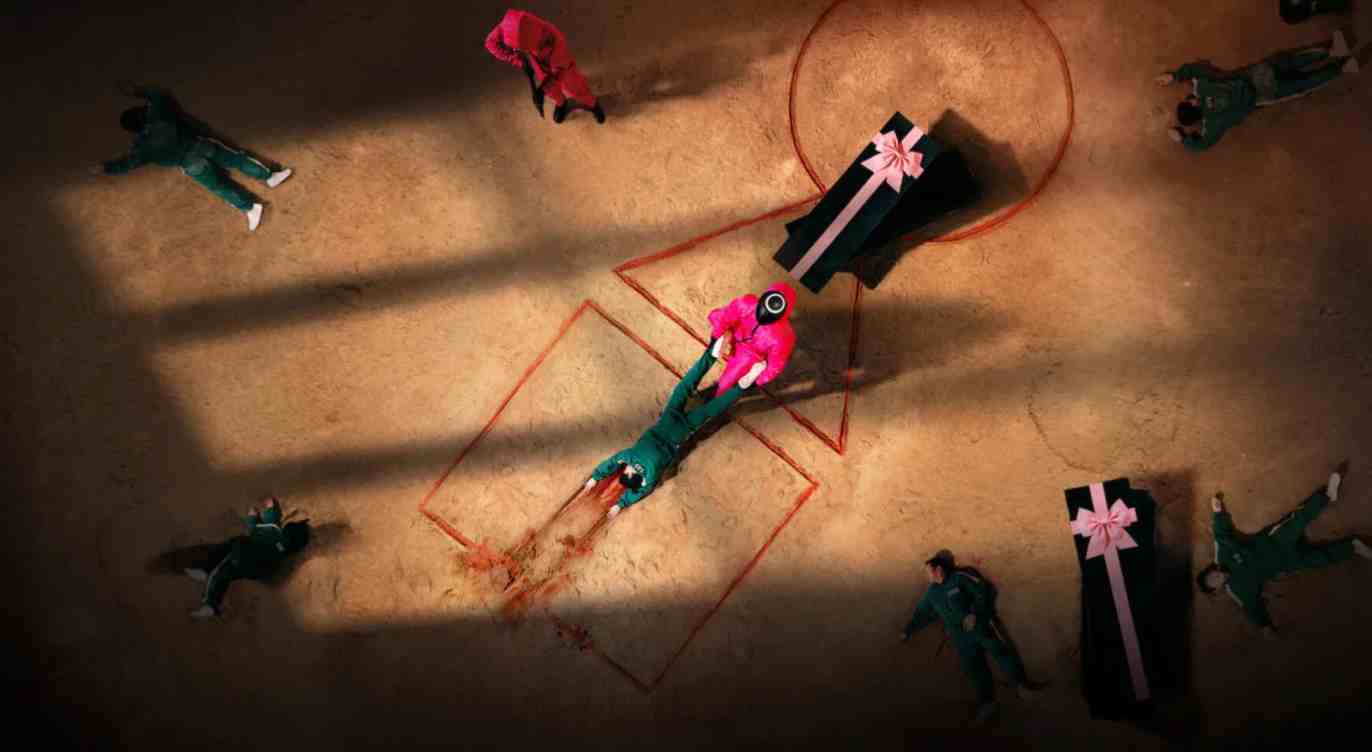 Squid Game proves to be a global hit series topping Netflix charts in more than 80 countries with 111 million fans. Squid Game had 1.65 billion hours of views in its first 28 days, and was more watched than anything else Netflix has released. One of the main reasons behind the success of Squid Game is the influence of South Korean culture on global society, following the likes of K-pop band BTS and the Oscar-winning movie Parasite.

Furthermore, Netflix offers Squid Game in both dubbed and subtitled versions in multiple languages, expanding its potential audience.
Jung-jae lee plays Seong Gi-hun
Park Hae-soo plays Cho Sang-woo
HoYeon Jung plays Kang Sae-byeok
Anupam Tripathi plays Abdul Ali
Oh Young-soo plays Oh Il-nam
Heo Sung-tae plays Jang Deok-su
Some Interesting Facts About Squid Game
Hwang, writer, and director took six months to just write the first two episodes.

The oversized doll from the first episode of Red Light, Green Light is real and is situated at Jincheon County in South Korea.

The show's creator, Hwang Dong-hyuk said that the show's concept was inspired by a game he played as a child. 

Squid Game was meant to be a movie.

The phone number used in the series to invite people to play the game was real. Two owners of the actual number have expressed their distress over the matter, they received thousands of calls asking to enter the game.

The concept and story of Squid Game were made ten years ago.