"It's definitely a high chance, that's why we've got to get them down. We can't leave them like that," he said.
"A strong wind could bring them down, if it gets in the right direction … the corners are holding it up at the moment, but there's every chance it could come down without notice."
The Bureau of Meteorology has forecast winds of up to 40km/h in Sydney on Friday.
Dewberry said if the walls collapsed there was a risk to surrounding residential buildings.
"When those bricks hit the ground, they ricochet off and they become heavy, you know, a brick projectile … they're extremely dangerous," he said.
"A large brick … as a projectile under force can cause serious injury or death, so that's what we're worried about and are definitely treating it with the respect it deserves."
Acting Fire and Rescue NSW Commissioner Jeremy Fewtrell said firefighters worked throughout the night to contain the fire, but it was still burning on Friday morning.
"We've obviously made a lot of progress overnight. There are still some road closures in the area, but the fire is almost extinguished," he told 2GB.
"It's still going to take a little while [to extinguish] because a lot of the debris from the building collapsed in on [itself], and so there's a big pile inside the building burning underneath all that debris.
"It's very hard for us to get the water exactly onto that and fully extinguish it, so we've had crews working throughout the night."
Chalmers Street remains closed from the Cleveland Street intersection to Central Station, along with all of Randle Street. Elizabeth Street is also closed southbound between Eddy Avenue and Devonshire Street. A number of small alleyways near the site are also blocked.
Light rail services were operating as normal on Friday, while some bus routes were diverted including routes 308, 310, 343, 374, 320 and 440.
Commuters Cosette Jackson and Esmee Laville could not get to work on Friday morning at One Playground Gym in Surry Hills because of the street closures.
"We didn't know if the street was open, whether the street was closed to cars or whether we could get in and obviously we start early, so we came in anyway," Jackson said.
The pair were working when the fire began on Thursday afternoon and said it just got bigger and bigger.
"You could feel the heat and it smelt crazy and then it started raining ash that was on fire … so no one was crossing the street," Laville said.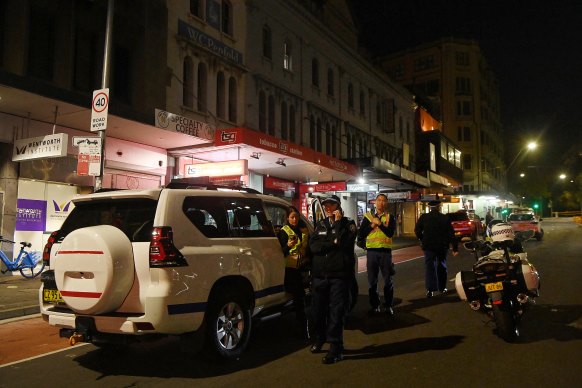 Fewtrell said the cause of the fire remains unknown and police and fire investigators will determine that once it is safe to do so.
Loading
"With the extent of the damage to this scene, it's going to be very difficult to gain access to that and do a thorough investigation safely in the early stages," he said.
The blaze broke out at a vacant building on 11 Randle Street near Central Station about 4pm on Thursday and was quickly escalated to a "10th alarm" status, the most severe type of fire.
Explosions could be heard as the blaze engulfed the site. A huge fireball rose moments before a major wall section exploded outwards, showering the street in bricks, concrete and other debris.
Our Breaking News Alert will notify you of significant breaking news when it happens. Get it here.