FICTION
Bitter & Sweet
Amal Awad
Pantera, $32.99
For many migrant Australians, food is a way to connect to our spiritual ancestry. It is a powerful, evocative, revelatory – and delicious! – way that we maintain our relationship to our birth-country, to our parents, and to the possibilities of evolving our expanding identities.
For Zeina, a 40-something Palestinian Australian chef living in Sydney, food is a lifeline. When she cooks, she reaches a transcendent state, a way of "uncover[ing] hidden truths within herself".
A colleague describes her as an "intense, quiet chef who's too good to talk to anyone but her ingredients". But she's not apologising – "She liked the intensity of being a chef", and when she cooks, "time and space widened, expanded."
When we meet Zeina at the beginning of Amal Awad's novel Bitter & Sweet, cooking has become her only salvation as she struggles to balance a toppling tray of personal crises. Her father's health is deteriorating while his restaurant crumbles. Her marriage has fractured – she hasn't seen her husband for a couple of months (the reason for this falling-out is teasingly dangled in front of readers for the first half of the book). She has "entered her forties with lower back problems and a greater desire for comfort and aloneness".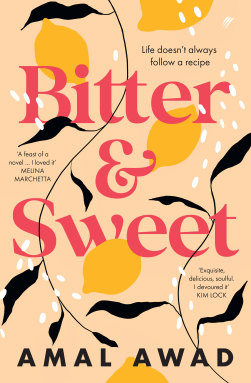 Still, the burden of caregiving falls on her, as it so often inevitably does for women. When it becomes clear that her father can no longer manage his restaurant alone (especially after a busted pipe inadvertently creates a lake in the middle of the kitchen), Zeina gives up her job as head chef at a fancy inner-city eatery to take care of father and restaurant.
Meanwhile, her cousin Faye, a successful food influencer who is "more Aussie than Arab", is stealing words straight from Zeina's mouth, "folding herself into this Arabness for the media". Faye is a "walking embodiment of a vision board", and every time Zeina sees her in the pages of a glossy magazine, it is a reminder of what she has failed to do.
For this heroine, the conventional midlife crisis trope is not the affair, the sports car and the new haircut. It's quitting her job, becoming a full-time carer for her father and incidentally becoming a hospitality entrepreneur.