Yimithirr, Birri Gubba, Erub and Scottish writer Lystra Rose won the award for young adult literature; Kamilaroi man and DeadlyScience founder Corey Tutt and Dhungutti artist and 2022 Archibald Prize winner Blak Douglas won the prize for children's literature; and Palawa playwright Dylan Van Den Berg won the award for playwriting. All three prizes are worth $30,000.
It was also a strong year for first-time writers, including Dank and Rose.
Other debut writers included The Sydney Morning Herald Best Young Australian Novelist Katerina Gibson, who won the $40,000 prize for fiction; Jackie Bailey, who won the $30,000 Multicultural NSW Award; artist Del Kathryn Barton and screenwriter Huna Amweero who won the $30,000 prize for scriptwriting; and Grace Chan who won the $5000 People's Choice Award.
Bankstown Poetry Slam was also recognised on the night with an award for its contribution to Australia's literary life.
Debra Dank may have taken home the most awards, but she finds her wins "confounding" as she never set out to write a book.
Instead, We Come With This Place was written as part of her PhD in narrative theory and semiotics, from Deakin University in Victoria.
Loading
Dank worked on her PhD while camped out on country with her husband, Rick, for six months.
"It was a really good and necessary mental shift to be located in that presence [on country]," she says.
Dank could never have imagined the readership that has grown for the book, which was also shortlisted for the 2023 Stella Prize. In fact, the book was written largely for her children and grandchildren.
Partly, it was an act of preservation – Dank's country is near the Northern Territory's Beetaloo Basin, where onshore fracking was recently approved.
"The horror of that, and the genuine pain in that, is something that I'm very conscious of sharing with my children and with other members of our family," says Dank.
She hopes that the success of her book will raise awareness of the issue and its impact not just on remote Aboriginal communities but on future generations.
"While I might no longer have the ability to take my grandchildren onto country and do the things that we should be able to do … the rest of the Australian population will also be impacted because it's ultimately about water security."
Speaking at the awards on Monday night, Dank urged readers to consider what is happening in the Beetaloo Basin: "Very soon my 12-month-old granddaughter … will not be able to grow on country like she deserves to.
"And my soon-to-be-13-year old granddaughter … will not be able to go home so much to experience what her mother did, and what her aunt and her uncle did, and what the mimis [grandmothers] have taught us all."
Dank says the recognition of her book speaks to a growing appreciation of First Nations knowledge and writers.
"It just affirms the validity and the legitimacy of Aboriginal knowledge," says Dank. "And that it really, genuinely does have a role to contribute to the betterment of the Australian nation as a whole.
"The time is right, and the interest is there, and the hunger for wanting to understand our place a lot better and in other ways."
While Dank is grateful for the acknowledgment, she stresses that she shares her wins with her family, past and present, and with her ancestors: "The win is a Gudanji win, it's a Wakaja win, it's a win for all of those ancestors. And they're all sitting here looking at me, saying 'Do it right, my girl,'" she laughs.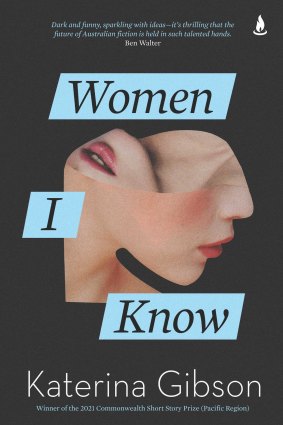 Writer and bookseller Katerina Gibson won the $40,000 Christina Stead Prize for Fiction at the NSW Premier's Literary Awards for her short story collection Women I Know.
The book is loosely themed around the complicity of white, middle-class women in systems of oppression; her protagonists are often self-absorbed and struggling with ethical quandaries – like how to be an influencer and an environmentalist at the same time.
The prize money buys Gibson the time to write. "The amount of money that comes with the prize is more money than I've earned in a calendar year," she says. "It is quite literally life-changing."
It's the second time in two years that the Christina Stead Prize has been awarded to a collection of short stories, following Tony Birch's Dark As Last Night. He was the first person to win the prize with a short story collection since Tim Winton in 2005.
"[Short stories] always have had a distinct place in the literary landscape," says Gibson. "There is a really rich history of short story writing in Australia."
Gibson was inspired to start writing short stories while studying creative writing at university, where she started reading collections by George Saunders, Julie Koh, Maxine Beneba Clarke, Tom Cho and David Foster Wallace.
"I was just like, 'What is this? Nobody told me that you can write like this,'" she says. "They were all really strange and trying something really new … Once you discover them, it's hard to go back."
Winners of the 2023 NSW Premier's Literary Awards
Book of the year ($10,000)We Come With This Place by Debra Dank
Christina Stead Prize for Fiction ($40,000)Women I Know by Katerina Gibson
Douglas Stewart Prize for Non-Fiction ($40,000)We Come With This Place by Debra Dank
Kenneth Slessor Prize for Poetry ($30,000)The Singer and Other Poems by Kim Cheng Boey
Patricia Wrightson Prize for Children's Literature ($30,000)The First Scientists: Deadly Inventions and Innovations from Australia's First Peoples by Corey Tutt and Blak Douglas
Ethel Turner Prize for Young People's Literature ($30,000)The Upwelling by Lystra Rose
Nick Enright Prize for Playwriting ($30,000)Whitefella Yella Tree by Dylan Van Den Berg
Betty Roland Prize for Scriptwriting ($30,000)Blaze by Del Kathryn Barton and Huna Amweero
Multicultural NSW Award ($30,000)The Eulogy by Jackie Bailey
NSW Premier's Translation Prize – biennial award ($30,000)People from Bloomington by Budi Darma, translated by Tiffany Tsao
Indigenous Writers' Prize ($30,000)We Come With This Place by Debra Dank
UTS Glenda Adams Award for New Writing ($5000)We Come With This Place by Debra Dank
People's Choice Award ($5000)Every Version of You by Grace Chan
Special Award Bankstown Poetry Slam
Sydney Morning Herald subscribers can enjoy 2-for-1 tickets* to the Archibald, Wynne and Sulman Prizes exhibition at the Art Gallery of New South Wales during June 2023. Click here for more details.
The Booklist is a weekly newsletter for book lovers from books editor Jason Steger. Get it delivered every Friday.