Rapper, writer and activist Briggs started planning the October 6 Now & Forever concert in support of the Yes campaign a month ago, because it suddenly occurred to him that no one else was going to do it.
"I felt like, 'we haven't done a show yet, when's that happening'," he says. "No one had asked me to do a show either. And I was like, 'oh, maybe no one thought of it yet'."
Realising they hadn't, he called his good mate PK – that's Paul Kelly to you and me – and asked if he'd join him for a show in Briggs' home town of Shepparton, on Yorta Yorta Country. Then he called another mate, Suffa from the Hilltop Hoods, and from there he reached out to Danzal James Baker – better known as Baker Boy – via Instagram. And before you know it, Briggs had assembled a line-up that also includes Emma Donovan, Mo-Ju, Barkaa and Jimmy Barnes, with Logies host Sam Pang stepping in to MC.
"It's come together really quickly," says Briggs. "My approach to everything I do is I just do it. If I can't see it, I try to make it."
He and Baker are sitting in the offices of Frontier Touring, one of the big three promoters (the others being TEG Live and Live Nation) who have set aside traditional rivalries and joined forces with Live Performance Australia to make the concert happen at short notice. No one is being paid, and the proceeds from the cut-price tickets ($21.50) will go to a range of charities and not-for-profit groups.
"Having them come together is a real special moment for our industry," says Briggs. "It's about standing in solidarity with blackfellas with no fear of tarnishing their brand or anything like that."
Last weekend saw performances around the country at Walk for Yes rallies, with Donovan, Kelly, Bernard Fanning and Peter Garrett among the artists who played in the five capital cities. But until now, one of the more remarkable aspects of the referendum campaign has been how few Indigenous artists appear to have been willing to speak up in favour of the Yes campaign.
Undoubtedly, the backlash faced by the likes of Marcia Langton from some of the more vitriolic elements of the No campaign have served as a deterrent for some. And for those who swim in the mainstream, not alienating one side or the other in what has become a fractious debate probably makes good career sense.
"It's about standing in solidarity with blackfellas with no fear of tarnishing their brand."

Briggs
"I think blackfellas in the industry, we don't get to make a lot of mistakes – not that coming out is a mistake," says Briggs. "I think it's tough for blackfellas to stand up sometimes, because they're putting themselves on the chopping block. It feels pretty volatile at the moment."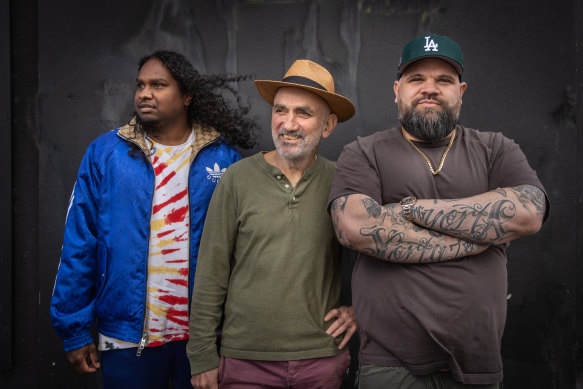 Briggs acknowledges there are divisions within Indigenous communities over the Voice, too. "We're not a homogeneous one point of view. We live and breathe and are sophisticated beings like anybody else, so there's going to be people who are against the Yes vote, and that's their business," he says.
There are also many in the remote parts of Australia for whom the referendum is a vague abstract concept at best, adds Baker.
"A lot of those communities are disconnected from a lot of the information out there," he says. "So for me to be able to do something like this, and talk to families, [is saying] this is what it means and mob should understand that this is giving us a voice, and everyone has been fighting for something like this for centuries, and still are."
The Shepparton concert will be an afternoon to mid-evening affair, and alcohol-free. Briggs wants it to feel like an inclusive event. "I want undecided people to come and see what we think, how it can be," he says.
Loading
A week later, the nation will cast its vote. He's optimistic, but thinks what's at stake is not what the No campaign would have people think.
"I don't believe this referendum is about people worrying about the sanctity of parliament. I don't believe the next man is truly concerned with amendments to a Constitution that he hasn't read. This is about whether or not they value blackfellas."
Entering the home stretch of the campaign, says Baker, "this is where we need to push really hard. This is where we feel like we've got a chance of getting somewhere, where back in the day we wouldn't even get this far."
A Yes vote won't be a cure-all, notes Briggs. "But I feel like No just reinforces the racism and the negative, which to me is unacceptable. And that's why I'm doing everything I'm doing.
"No is our truth, we already live in No," he adds. "What changes with a No result? Nothing. Yes is not the magic wand, it's going to take work, but it's an incremental change that is going to lead to more.
"If we can't have this little part, what hope do we have for anything else?"
Now & Forever is at the Shepparton Showgrounds on Friday October 6. Tickets on sale now at ticketmaster.com.au/nowandforever
Contact the author at kquinn@theage.com.au, follow him on Facebook at karlquinnjournalist and on Twitter @karlkwin, and read more of his work here.
Find out the next TV, streaming series and movies to add to your must-sees. Get The Watchlist delivered every Thursday.